They say actions speak louder than words, and in football they can be deafening.
In a previous post I spoke about social media directly linking players and fans for a more 'personal' relationship. Tweets and posts delivering direct quotes, thoughts and comments from the men themselves. Actions, however, can often form the best communication between said parties – because actions 'say' what the players never will. And, more often than not, actions can't get twisted in the press or taken out of context. Take, for example, when a player scores against his former club – a non-celebration shows the respect he has for his previous employers and fans. This is something that Wilfried Bony did over the weekend and something which Swansea fans would all have appreciated – well as much as you can appreciate conceding a goal!
With so many rumours at this time of the season, the actions of players are being scrutinised during their final home game of the season. Everyone is looking for some kind of insight, some sort of commitment or even a farewell gesture and last Sunday, at Old Trafford, we certainly got a few…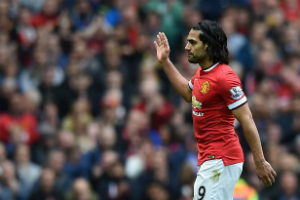 Radamel Falcao, the man every Utd fan wanted to do well, said his goodbyes. His name was sung regularly throughout the game and even after he had been substituted. His substitution brought back memories of Carlos Tevez's last game at Old Trafford. Not only did he applaud the whole stadium as he left but also gave a couple of waves, signalling his time was at an end. We all know that once he gets his form back he will return to being one of the best strikers around but that doesn't look like it will happen with Man Utd. His efforts have been more than appreciated, his attitude never called into question and his desire to make things work – even though they just didn't – very much recognised. The one remaining action possibility left for Falcao is to say too much about his time at the club when he leaves and then to sign for one of our rivals. Let's hope that his conduct at the weekend is where the similarities to Tevez ends.
A lot is being made about David De Gea applauding the four corners of the stadium during his warm-up and has been interpreted as a wave goodbye to the fans. However, if you compare this with every other warm-up he has done this season, and previous seasons, then there is very little in the difference. He acknowledged the Stretford End as he came out onto the pitch. He continued to jog along the 18 yard line, acknowledging those in the Sir Alex Ferguson Stand and the South stand while also applauding those in the East stand at the far end of the pitch. This is not something new; this is part of his routine. Maybe he did linger a little bit longer than usual but let's remember there are only a few thousand people in the stadium at this point so it's not exactly a great time to acknowledge 'all' the fans. When he got substituted, with 15 minutes to go, you would think that this was the best time to acknowledge everybody and say goodbye – yet he didn't. He applauded the fans in the direction he was walking as they had sung his name all through the game. This was the fans' way of saying thank you, please stay.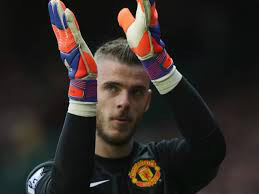 De Gea kept his head down during the lap of the pitch with the rest of the players at the end of the game.
He appears to be a man with alot of his mind. His family and girlfriend all live in Spain and travel over every few weeks. It's been confirmed that he has been offered a new improved contract at Man Utd, yet he hasn't signed it. I've no doubt he loves the club and everything about it but he is a young man, far from home and with a long career ahead of him. His love of Man Utd is pulling him in one direction while the call of a successful club from his home city is tempting him in another. It has nothing to do with money and everyone knows that.
The fans would love him to stay, but if he doesn't only good things will be said about him; because his actions throughout the last four years have earned him that right.